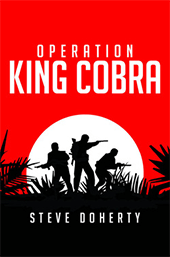 Operation King Cobra – Mobi Digital Download (Kindle and smaller screens)
December 3, 2014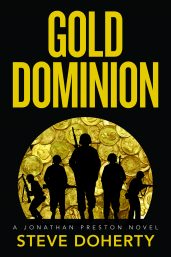 Gold Dominion – Autographed Paperback Book
March 23, 2018
Call for Blood – Autographed Paperback Book
$18.26
CALL FOR BLOOD
It's 1945, the Japanese war machine is crumbling, and General George C. Marshall wants to deal the enemy a lethal blow using counterintelligence officers behind enemy lines in the China, Burma, and India theater. Their mission? Eliminate the Japanese Army's secret biological and chemical research program known as Unit 731.
United States Army Counterintelligence Agent Jonathan Preston leads the King Cobra team, a group of Allied agents, through the deadly jungle landscape and behind Japanese lines, parachuting into enemy territory, and dodging Japanese patrols and as well poisonous snakes, leeches, tigers, and dozens of deadly tropical diseases.
After King Cobra succeeds in raiding prisoner-of-war camps and freeing hundreds of Allied soldiers—killing Japanese sibling agents in the process—Preston and his colleagues must also evade the team of elite Japanese assassins hell-bent on their demise.
A gripping tale based on actual US counterintelligence missions, Call for Blood explores the little-known crimes and atrocities committed by Unit 731 and gives readers a front row seat for one of the most fascinating dramas of World War II.
Product Details
Title: Call for Blood
Author: Steve Doherty
Publisher: Tate Publishing (October 26, 2015)
Genre: Historical Fiction / Military Fiction / World War II Fiction
Format: Autographed Paperback Book
Lenght: 322
Language:English
USA Deliveries Only
Compare